*Dolls Hospital* *Antique Dolls* *Porcelain Dolls* *Miniatures* *Moulds* *Tuition*
We are family run business with over 25 years experience and pride ourselves with the service that we offer to our customers new and old.
In addition to the dolls hospital service that we offer we also make our own range of handmade dolls, miniatures and plaster moulds.
Our reproduction dolls and miniatures are handmade from the best materials at our studio by a skilled craftsperson. We try to emulate the old doll factories whilst each of our dolls has the benefit of being hand finished giving them a unique character.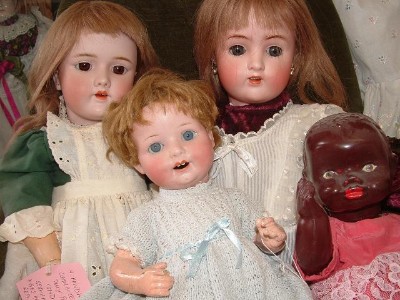 Each doll we make involves many different stages and five separate firings before it is ready for its new owner. Every care is taken when handpainting each head to reproduce an 'antique' look, limbs or parts may also be ordered separately. We try to ensure that we always have some kits and undressed dolls ready for sale but at busy times this is difficult to guarantee. Please allow up to eight weeks for your order.
If you would like to make your own dolls or start your own dollmaking factory we have our range of doll and miniature moulds to choose from. They are easy to use and can be used with various materials. We also make original moulds from our customers models.
Mail Order Catalogues (printed) - Please send £3.00 in postage stamps with your name and address
Price list only (pdf file) - Please email to request our latest price list